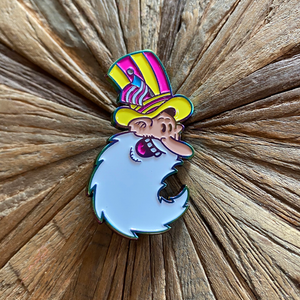 Uncle Trips Pin v.1 (Extra Trippy)
Regular price $12.00 Sale
My 'Uncle Trips' design now comes in hat pin form! This version has an extra punch with near-fluorescent soft enamel on rainbow metal.
2" x 1", rainbow metal finish with bright enamel inks. Metal clutch backing on two posts. Numbered edition of 100, with "@WickedAwesomeTN 2020 v.1" in raised text on the back.
** Pins will be sent safe and sound in bubble mailers. Shipping/handling charge will be added on checkout.
** Please allow up to two weeks for fulfillment. I'm usually good about getting orders out the door within a week from the shop closing, but I'm one dude and sometimes things come up. **